Blogger just ate my effing post! RAWR! Must keep it short now to keep myself from spewing too much filthy language. I try to keep that to a minimum on my craft-y blog.
The post was mainly about my awesome LYS and my haul(s) from their we-don't-wanna-inventory-this-stuff sale. Oh, and the 11 pairs of aluminum straights passed on to me.
Instead of a quick rewrite, I'll take some photos when it's light out and post it all with those.
For now, here's some yarn porn, an FO, a WIP and some because-I-got-a-camera-that-day shots to tide you over:
Here we have :
(left to right)
- fingering weight merino dyed by one of the ladies at the LYS. Got a great scarf pattern to try out too. The sample they had was really cool.
- SWTC Karaoke in Mermaid Mix. This will become a Lady Elenor (Scarf Style), hopefully. I have 3 balls and 8 more on order. I think I'll be ok mixing dye lots on that pattern.
- UrbanGypz handpainted superwash sock yarn in "Playing With Matches". This is from Asheville. Done by a local gal up there. She has an Etsy store as well.
(front) - Mountain Colors Bearfoot in Glacier Teal or some such color. Something Teal anyway. This is gonna be a scarf for my friend in WI. Actually, it's already started but I'm not sure about my choice of needle size yet.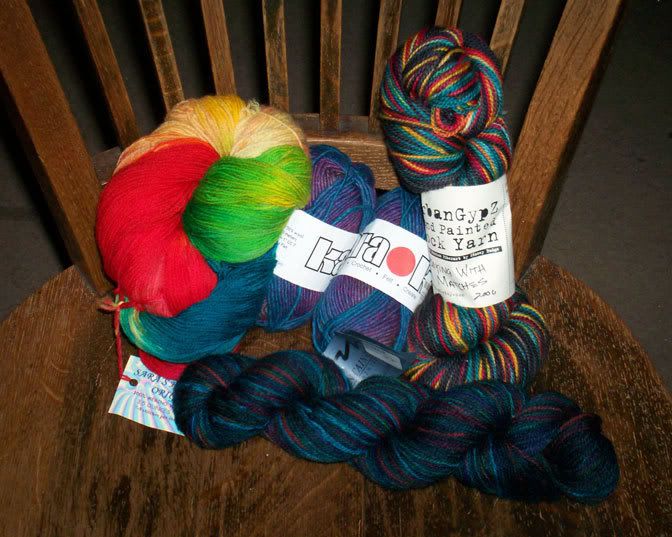 Here's my SWS Clapotis. I'm through 3 or 4 straight repeats now and I've moved it to my new Denises.

Here's the Simply Soft Shadows one in action. One of its many uses. I love this thing. Can't wait to use the bigger one!!


>
And here's Kitty being coy. Or sniffing the Bearfoot, whichever.
Tried to take a pic of the cabled hat and the pattern repeat counters I made but they turned out crappy.
Here's the obligatory *meh* picture of me in my car right after I got my camera (wearing my Knitphomaniac shirt... hehe)
This is my cute lil' pocketbook with wheels. I lubs muh car. Ignore the crater (F**cking drunk driver). Hopefully that'll be gone next month. Don't even ask about the other side. That's getting fixed as well.
Da' planes! (in front of the Airstation)