In case you can't tell, I just love yarn porn. I'd like to have more WIP pictures but I can't ever get 'em to look right or do the WIP justice. I'll have more FO pictures soon too. But by far my favorite is the yarn porn.
I'm so freaking lucky to be able to get/have all I do. I don't mean to come across like "oooh, check ou my tons of stuff" at all. I just get so excited about yarn that I must share. I don't have much disposable income but what I do have tends to go toward yarn and other knitterly goodness.
Most of it is stuff from swaps and gifts. I'm super lucky to have a momma and fella who support my yarn addiction pretty well. And I'm a good bargain shopper.
Yarn/knitting makes me happy, is the most economical entertainment around, and keeps me out of trouble. Also, I like to collect things. This is one of the better collection habits I've had. Since I'm finally purgin all the useless crap I've been lugging around over the years, I've picked up this new yarn addiction. Yarn is lighter, prettier, and more useful than all that other crap so it's a definite improvement.
Anyway, I'm not sure exactly where I'm going with this. It's just that I read something on a blog a while back complaining about people posting yarn pictures rather than "real" knitting pictures. But it's my darn blog anyway, right?
So yeah, enough rambling... on to the yarn and stuff...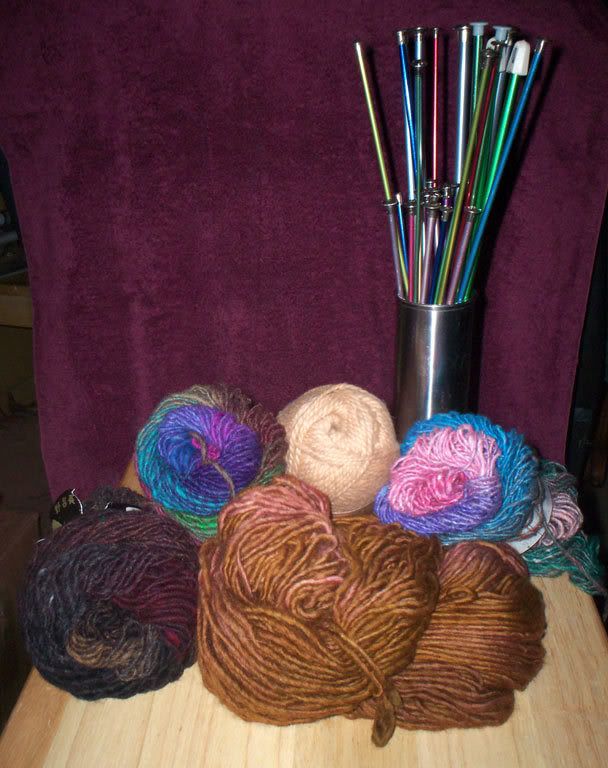 Yes, I have given in. I'm dabbling in the dark side. I bought some *gasp* Noro.
The first time I met some Noro in person I was horrified. I'd hear all these wonderful things from people drooling over it. I expected beautiful, magical, irresistable yarn. I picked up a skein and actually squeaked in disgust and
threw
it back in the bin.
LOL. Horrified. I couldn't believe this was what people had made such a fuss about. Weird uneven yarn that made burlap seem cuddly! WTF? At those prices? And wait... is that a twig?! Well, I've decided it's time I give it a fair shot. What brought this about? Two works
yarn sale
. Of course. ;) When I went to pick up some stuff I put on hold last week, I found a new basket that said
"We are the last of our kind so take us home for 20% off"
Had to poke through. I already had a skein of Malabrigo in my hand but found this neat brown w/ pinkish in the sale basket so I picked it up. Underneath I noticed some magical colors. Upon closer inspection, I realized that was some Kureyon makin' eyes at me. Who'da thunk? Under that was a skein of Silk Garden also eyein' me.
Short story long, I ended up with two balls of Kureyon and one Silk Garden. I figure if nothing else, the colors will be fun to work with and my mom can wear anything without it bothering her skin.
But what's that buttery goodness poking out in the middle of the Noro? Blue Sky Organic Cotton. Only non-sale item I got. Whatever comes of that fabulousness is mine all mine. I've been admiring the Blue Sky Cotton for a couple months and almost had to buy a skein of hot-ass pink but resisted until I saw the organic, unbleached skein underneath. Same price too. It had to go home with me.
And behing it all (no, not the stupid towel that hiding the chair) is the awesome container of needles I found on the doorstap a couple days ago!! My dad's friend is a retired knitter and she gave me her collection! 11 pairs of well-used aluminum straights, in smaller sizes I actually use. So exciting. The larger ones are a few I was given by a friend of my mom. She tried to knit and gave up. Inheriting her stuff was nice enough but kinda sad. Getting these well-loved needles excited me. The color is worn off of some of the tips. These were actually used. Makes me happy. :) You know it's a Knitter's collection when the US3s have the color worn off and one set of 7s is two different colors, indicating the inevitable disappearing needle syndrome. Hehe.
And here we have some more yarn sale goodness:
10 skeins of Cascade Pima Tencel. This will be a lacy tank for me. In from, best I can tell, ~825yrds of fabulously soft Chinese laceweight lambswool. Mmmmm... I almost bought this yarn in red or black in NC but it was $22-24. I got this pink for $11!!! Woohoo!
Not pictured are the Regia 4ply, Skacel Trampoline, and ball-band-less skein of mystery yarn I got for a buck each. What's more exciting than dollar yarn?!
Well, I should probably go shower and get ready for the evening's non-yarn related activities. Dinner and a movie w/ the boy.
Oh, in completely unrelated news, I just found out we'll be haing another lil outing next month! Rehab is coming back to Charleston Jan 18th. We'll be getting a room so it'll be a nice escape with both of us living at the parents' houses now. It's at the Music Farm. I haven't been there since the NOFX show almost a decade ago. Ah, memories. Heh. So yeah, that's really exciting. The last Rehab show was awesome even though my car broke down and we didn't have a lot of play money. This time we won't have to hitch an emergency ride with Ms. Pouty-pants and should have a little more fun money. Yay!
Ok, bath time...