Took a few WIP pictures today. Here's the first batch. I'm planning to edit a few more after I tend to my fish and hamsters and do some laundry. Hopefully I can keep today incident-free.
This is the first silver-toed, doom-free sock of doom. The yarn is "Cashmere Luxury Aran" or something like that. It's basicly a Cashmerino/Csshsoft type knock off. Super soft. Bonus points for being on sale.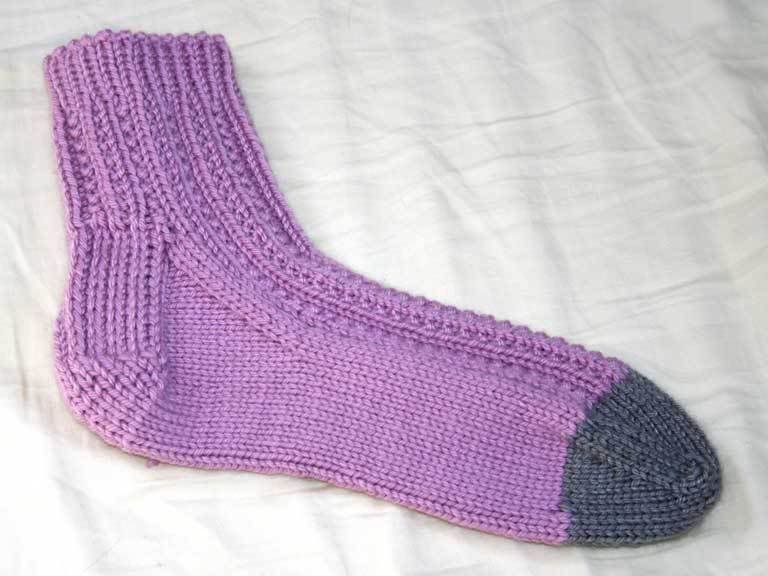 This is Broadripple ver2.0
This puppy better work out to be the right size or it may be doomed. It'll at least go on the back burner since the next size needles will be occupied by a long line of house socks.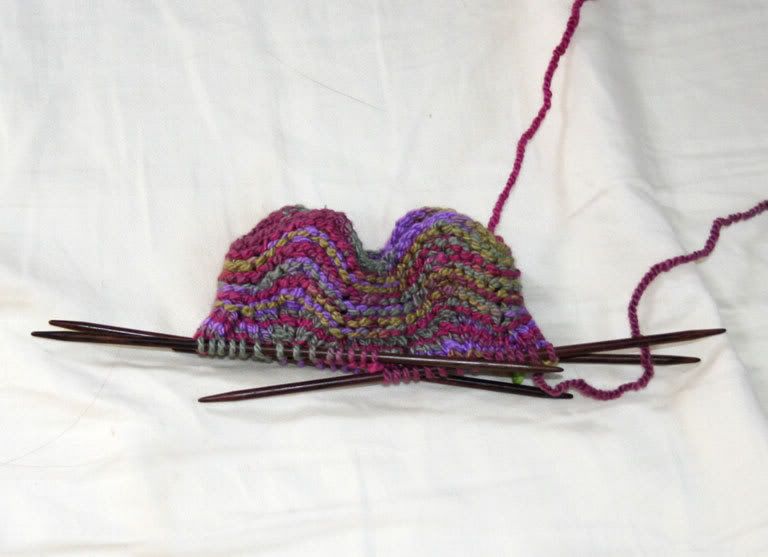 Here's a full length shot of the Clap of Questionable Intent. The color quility of this photo is atrocious. Hopefully it won't get mad about me posting unflattering pictures on the internet. ;)


Here we have a really bad shot of the Swatch of Ill-Repute. It's much nicer looking in person. Apparently not overly photogenic. Then again, this wasn't the best batch of pictures in general. :P
The rolled up bottom part was done on US5 Addis and it's best that you can't really see it since it looked all sloppy. I'm a fairly loose knitter, particulary with flat knitting, and can't imagine how people have made such lovely fingering weight Claps on size US7s and such. Funny thing is I *feel* like a tight knitter. Weird.
Anyway, I love the colorway. Can't wait to work with the tone-on-tone green as well. Very striking.
I'm not crazy about how loose and wonky the twisted stitches look though, particularly the left ones. I've entertained the idea of twisting them on the purl side as well and while I think it'd be more asthetically pleasing, I also think it could be the death of the Clapotis because I'd get annoyed with it. Since I'm making this one pretty large and that's a US3 circ you see in the photo, I think I'm better off just sucking it up. I think it'll look fine once it's all said and done.
Oh, and the weird poochy dropped stitches are from the purl line I put in when I changed needles.
Dagnabbit! I just remembered I have class at 5! Here I was thinking I'd just work on cleaning and what not a little later to make up for the late start, but now I only have two and a half hours until class. I better get going! Damn my crappy short-term memory!