Gauge swatches are damn dirty liars!! This lovely little aspiring sock will soon be a not so lovely badly-rewound ball of Esprit. :(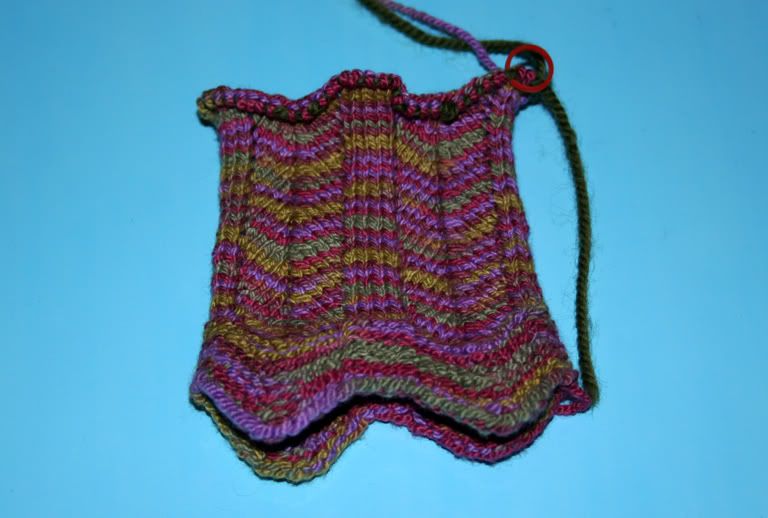 *sigh* Oh well.
The Socks of DOOM went out today. :) I won't post pics yet so as not to ruin the surprise.

Here's the other yarn porn pic from the other day: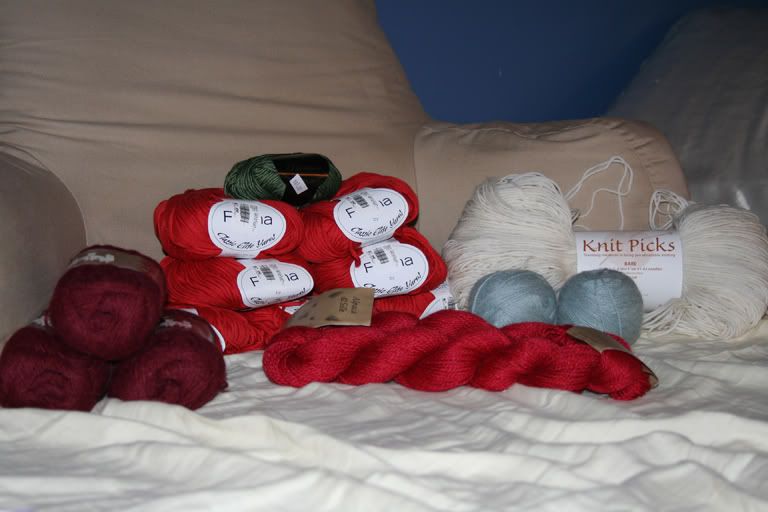 This is my tiny stash of "good stuff." (Not including the stuff I've gotten in the past week or so or the stuff that's been worked up.) Once again, my alpaca fetish is showing. :P
There's the Plymouth Indiecita Alpaca (my post-interview treat), Blue Sky Alpaca's Alpaca Silk (from the NC trip), and Drops 100% Alpaca (from a swap... originally supposed to become a Branching Out scarf). Then in the back there's a pile of the most balls of one dyelot I own... the Classic Elite Patina (cotton/silk blend) I got on sale in NC. On top of that pile is the last ball of Plymouth Royal Bamboo for the Branching Out in progress. And last we have the Knit Picks Bare Fingering Merino for my first foray into dyeing (aside from the RIT thing that doesn't really count :P)
My brother was released from the hospital today. He's at home waddling around, resting, and discovering the wonders of Percoset.
My cousin has been able to move both hands just a tad which is really good news. They're flying him to Atlanta next week for surgery. This surgeon is supposed to be one of the best in his field so hopefully that'll go really well. I might be driving up there with Mom at some point, depending on when the surgery will be.
Tonight is tacos, Purple Haze and fishtank cleaning. Oh joy. Then I get to frog that blasted sock.
I need to go take a shower but I'd really prefer a nap right about now.
Oh, and if anyone knows who keeps sneaking into my kitchen and stealing *all* the forks, could you please ask them to stop? :P