Ok, I'm still up so I decided to go ahead and upload some of the pics with the new camera.
Here's the lovely Christmas collection I've gotten in the past couple weeks. :) I'm thrilled. I love giving stuff away and I had mostly run out of any "good yarn" and was back down to my acrylics from last year.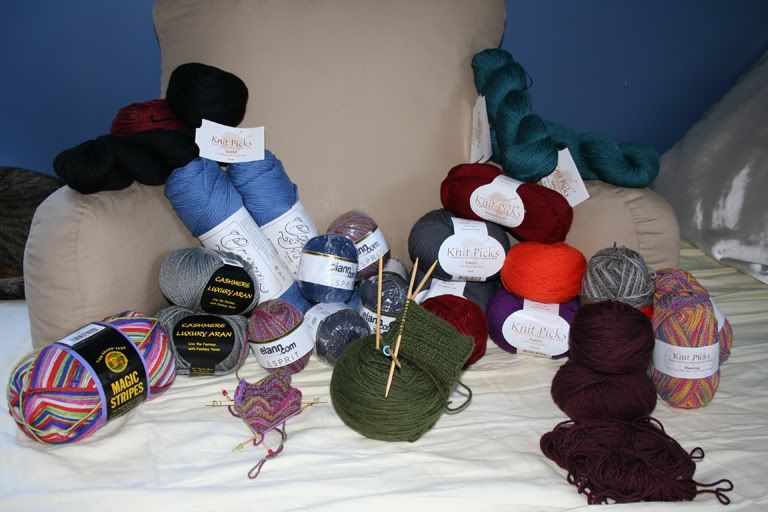 The garnet & black on the left is the KP Gloss for Daddy's socks. The blue Cotton Fleece is house socks for my brother.
The Elann Esprit is for a regular wear pair for my bro and Knitty's Broadripple for Mom. Only project she doesn't know about. Thats the one on needles.
Merino Style for Mom's fingerless gloves she's *so* excited about. :)
The pallette is the boy's socks. Ew, the orange. :P The things you do for love. Lol ;)

The eggplant stuff is Cashsooooooooooft for more gloves. Mmmm...
Green w/ needles is the beginnings of the Sock of Doom.
Grey is a surprise hat for my best friend in FL, who I haven't seen in a year. :(
+ some more sock yarn for whatever
This is the CWYC swap hoodie. It's fabulous. My pictures don't do it justice but it was the best I could do at the time. Note the great ears that stand up so well and the neat rainbow pocket lining! Good stuff. I love it.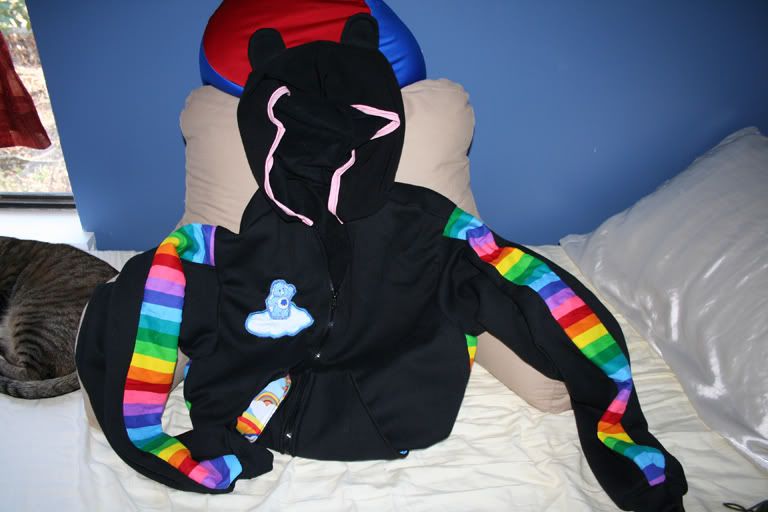 Here's most of the cotton collection. Mainly Christmas cloths and potholders. The bright blue ball is representing for the rest of his pound in the stash hamper. That one's for me.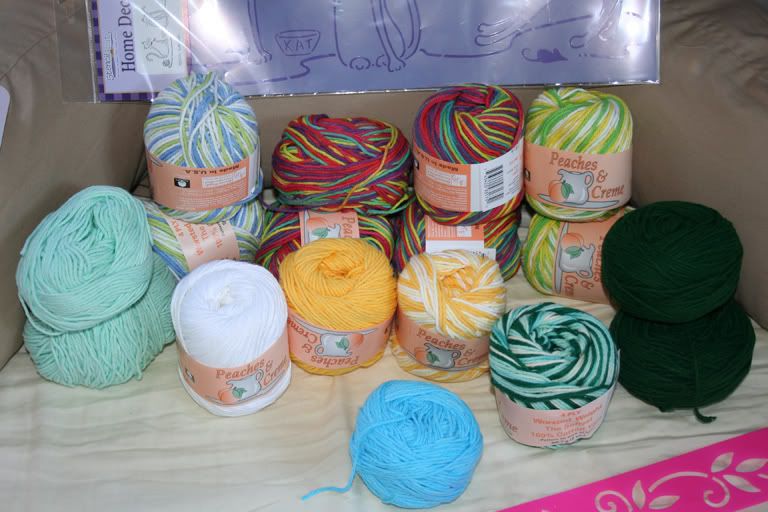 Oh, in the background of these, that's the nifty 'husband pillow' I got Saturday. Totally got me though trying to lay on that horrid hospital cot yesterday, lemme tell ya!
And of course Kitty had to stick his butt in a couple of em too. Hehe.